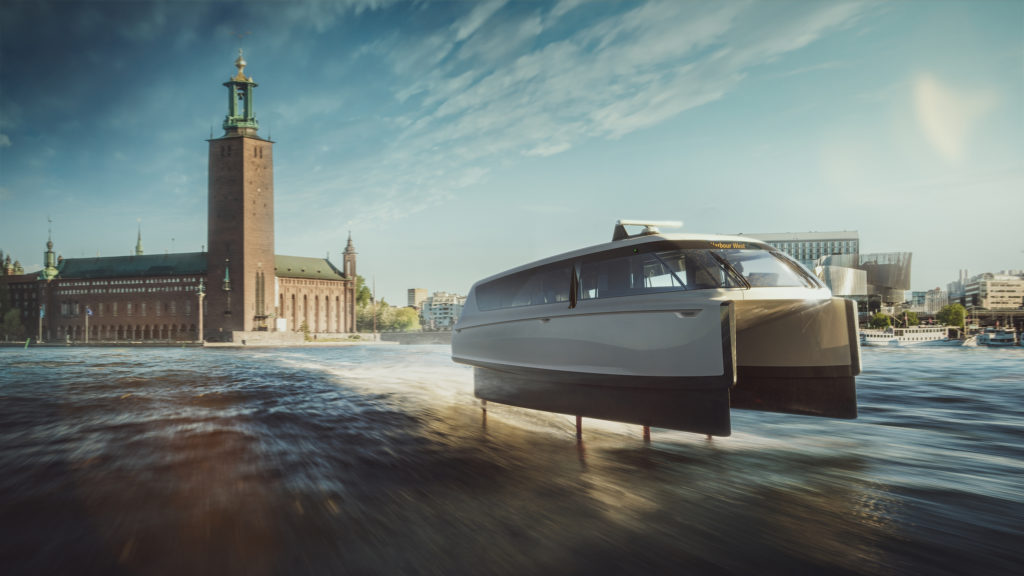 Embark on a safer, smoother and silent journey.
Advanced, computer-stabilized hydrofoils ensure a silent, smooth and safe journey. Flying with Candela P-12 will feel like travelling on a modern express train, even on open water and in adverse weather conditions.
The P-12 has a flexible interior with space for up to 30 commuters.
Travelled kilometers (per seated passenger) per kWh at 25 knots (kWh/km/Pax)
Source: Swedish Energy Agency Report: ER 2019:03; volvo.com, kewatec.com, waxholmsbolaget.se, Region Stockholm, Candela
Future-proofing Stockholm city's archipelago.
---
Proving the case: The Stockholm Project
Candela's first P-12 Shuttle will be water-born at the end of 2023 and enter Stockholm city's fleet of public transportation ferries in 2024 as a pilot on one of its main routes. The pilot will run until the end of the year and evaluate the P-12's performance, including in terms of maneuverability, comfort, chargeability, wake and noise.
With a speed of between 20-30 knots and built for optimal boarding, the current bus and subway commute on a number of routes can be halved.
Given reduced energy consumption, low maintenance needs and possibility to increase passenger volumes, we estimate that operational costs will be reduced by at least 40%.
---
A Candela vs other forms of transport: A Stockholm route example. Ekerö Center to downtown Stockholm at 8 am on a Monday. Minutes of travel.
Hydrofoils function similar to airplane wings. As the water flows over the surface of the foil, the physics of the interaction between water and foil creates an upwards force, lifting the boat out of the water.
In January 2022 we initiated testing of the first prototype of the Candela C-8, our market leading successor to the Candela C-7.
With more than 100 C-8s on order, we are alone in being able to deliver market ready electric hydrofoiling boats.
---
Technical
specifications
Capacity
30 passengers, seated
Propulsion
2 x Candela C-POD
Service speed
25-27 knots
Range
50 nautical miles at 25 knots service speed
---
---
Frequently Asked Questions
What is the range in high speeds?
The range is up to 60NM in service speed (25 knots). It will be possible to operate the boat for approximately 3 hours before charging. More than enough to handle the rush hours in the morning and evening time.
What are the service and top speeds?
The service speed is 25 knots, the top speed is 30 knots
How many passengers can the P-12 Shuttle take?
The P-12 Shuttle has 30 seats + 1 captain. There is also room for bikes and wheelchair seating. The maximum payload is 3 000kg
What certifications and approvals will the P-12 Shuttle comply with?
The P-12 Shuttle will have a Type approval- DNV Craft with passenger and battery notation. For local standards and certifications please contact Candela to discuss further.
How does the P-12 Shuttle handle rough water?
The P-12 Shuttle handles rough water very well. Significant wave height HS 1 meter when foiling and HS 2 meters when not foiling. If the weather conditions are too rough, simply land, and the P-12 Shuttle works very well as a normal planing catamaran.
What happens if you hit something in the water?
The foils are made of carbon fiber which makes them extremely strong. Hitting smaller debris has little to no effect. Hitting bigger objects – a log or rock for example – will result in the foil breaking at a designated breaking point. The breaking point is positioned to maximize protection of the hull from impact.
How is the boat kept stable?
Using advanced sensor-tactics along with a powerful computer, our boats automatically balance by adjusting the foils. The advanced control system makes adjustments of the foils at a rate of 100 times per second.
What are the charging options of a Candela P-12 Shuttle?
• AC: 400 V x 3 x 63 A, charging time 10-85 % approximately 3,2 h
• DC: 200 kW, charging time 10-85 % approximately 45 min
All FAQ